Would you like to transfer movies to iPad and watch offline? Sometimes you have so many interesting videos saved on Mac, PC or laptop that you think about ways how to add videos to iPad from PC or other computer and enjoy them anywhere you are right from the tablet screen. If you have the newest Mac you might want to explore Touch Bar tricks on MacBook Pro.
It is possible to find iPad movie format and convert your films and videos to watch on this mobile computer. It is also possible to download movies to iPad to watch offline or simply transfer the files you already have on your PC or Mac right to your tablet device.
Let's discover how you can copy videos to watch on iPad. This could be useful when you are travelling or waiting in a long line. There is no need to sync your gadgets. The copying procedure is quick and simple. You just need iTunes [learn how to fix iTunes 12.4 problems if you face any], computer and your iPad. You also need some videos or movies to copy. While sometimes the copying process can take as long as syncing you still can enjoy it since movies can be transferred from one device to another one via drag-and-drop method. Are you curious to learn more?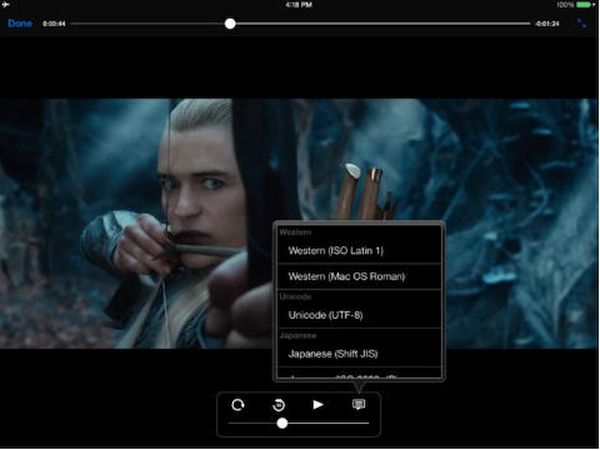 iPad Compatible Video Formats
The Apple iDevice supports only a number of video formats at the moment. Its Video application can play MP4, MOV, MPEG-4, M4V, H.264 and M-JPEG files. Besides, even these formats are limited. Thus, if you wish to watch H.264 movies you'll have to enjoy videos that are only 30 frames per second and 1080 pixels.
You can to keep in mind the supported video format for iPad when you plan to sync, add or copy movies to this gadget. P.S. iPhone users can send disappearing videos via Instagram app.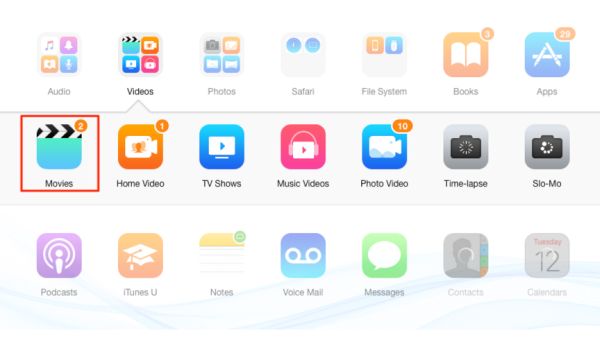 How to Transfer Videos from PC to iPad Manually
You don't have to use iPad video converter if you have the right (supported) file format already.
Step 1. To transfer movies to iPad you should connect your device to your computer or laptop.
Step 2. Open iTunes desktop program.
Step 3. Choose the movie or video file you wish to copy to the tablet. You should find it in your iTunes library since this is the instruction 'how to transfer movies from PC to iPad using iTunes' program.
Step 4. Choose your iPad from the left menu.
Step 5. Drag and drop the video file to copy it. Just remember to open the folder with the file beforehand and run iTunes in the background. The video will be copied into iTunes library.
Step 6. Wait for the copying to complete. All the correct file formats should be added without issues. The problems can be with the movies and videos that are not supported by iPad.
You should know that it is possible to add videos to iPad from a single iTunes library only. If you are a fan of social networks you can stop Facebook app from accessing your data on iPhone.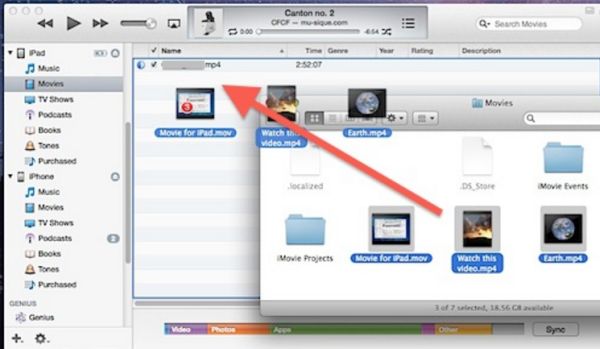 How to Transfer Movies from Laptop to iPad: Method 2
You can also do the following thing. Update your iTunes version to the latest release and use the feature called 'Manually manage music and videos:'
Step 1. Connect iPad to your laptop, Mac or PC.
Step 2. Run iTunes.
Step 3. Choose your device in iTunes.
Step 4. Select Summary option.
Step 5. Scroll to 'Options' where you can enable Manually manage music and videos option.
Step 6. Press on Apply option.
Always remember to backup iPhone or iPad before adding any changes.
There are also additional programs that can help you add files from computer to iPad without iTunes. AnyTrans is one of them. You can also search for similar apps that support AVI, WMV and MKV video formats and can automatically convert your files to the format supported by your 'fruit' tablet device.
Hopefully the simple guide on how to add movies to iPad from computer was useful to you. Enjoy!