Service to Remove iOS 7 Activation Lock / Find my iPhone Feature
The most recent iOS 7 was presented in September 2013. It comes with Activation lock feature that is turned on automatically if Find My iPhone feature is on. It is impossible to turn off this option manually or via some hacking programs. Only the original device owner can turn it off by entering Apple ID and passcode.
Some users first order iPhone unlock and then start thinking about iOS 7 option once they come up with Activation lock problem that doesn't allow accessing their Home screen. If you haven't run Find My iPhone disabled or enabled checker to figure out whether you will face the activation issues or not and now you can't pass it, we will help you to bypass Activation lock offered by iOS firmware.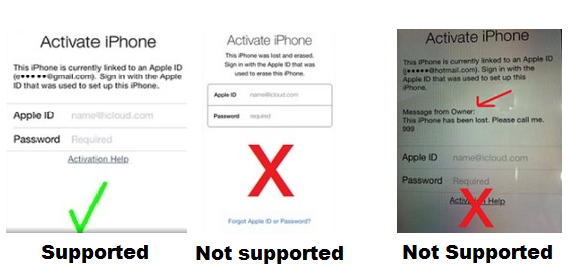 Important Notes
This package DOES NOT UNLOCK or UNBLOCK iPhone.

Make sure your issue fits the screenshot above.
This package doesn't work for blacklisted iPhones. Only clean IMEI. No refund if iPhone is blacklisted.
This package supports iPhone and iPad
Add contact@geo-location.site to your contacts to be sure our emails get delivered.
Please read Terms and Services before clicking the Buy Now button.
Delivery times only apply during business hours, not guaranteed turnaround time. (Business time is 9 am – 6 pm PST, Monday-Friday).
Order our service and you will be able to use the iPhone after upgrading to iOS 7 or restoring via iTunes as usual!