It is possible to create iPhone invisible folder and hide your shortcuts and applications in this folder [do you already think about the possible iPhone 7 features?]. This is pretty easy and fast if you follow our trick guide. It is not required to be jailbroken as everything can be done on any iOS 9 smartphone.
The instruction explains how to use hide shortcut iPhone option though you'll have to install some additional tools to make this happen as Apple doesn't allow anything like this by default. What will you be using? You won't believe it but you need the wallpaper as the trick is related to the wallpaper shadow.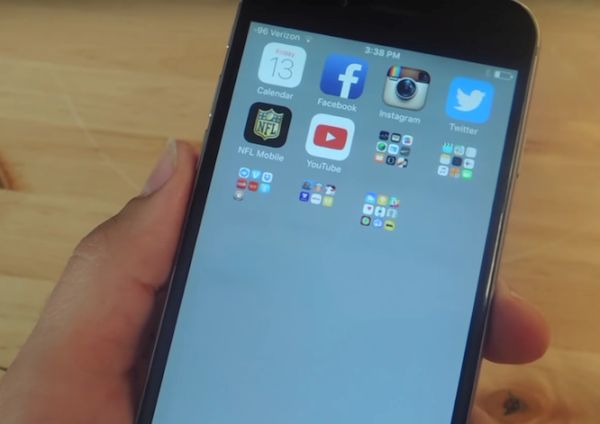 How to Hide Apps on iPhone / Shortcuts on iOS 9
Step 1. You need to download gray wallpaper or get white wallpaper because our folder will blend into your new background and these two colors are just perfect for what we are planning to do. Since the solid color is required on the lock screen you can continue using other images for your home screen background.
Step 2. Go to Settings and select General – Accessibility menu. We should now Increase Contrast. Disable Reduce Transparency for white background or use Reduce Transparency for gray background.
Step 3. You need to return to Settings again and select Wallpaper – Choose a New Wallpaper. Select the gray or white image you have downloaded from All Photos option. Remember to choose Use as Wallpaper feature and Set Home Screen.
Step 4. Now return to iPhone Home Screen. You see not folders? They are there but they blend into your new background.
Step 5. Get the App Icons Free which is free on the App Store. Install it and launch. Click on Create Icon option and select Go to Link. You need to choose Photo – solid wallpaper you have downloaded – Choose and press the space bar when you are asked to enter the URL. Choose Install. You will see shortcut icon in Safari browser now so Share it – Add to your Home Screen.
Step 6. You'll have to replace the shortcut label with a period before you Add it. There will be a new blank app icon on the iPhone. Look for the period label – it could be the last icon on your Home Screen.
Step 7. Drag any app you are planning to hide on the 'period' app and this way you'll create an invisible folder. Just move these apps on the second page within your new invisible folder so that they are not present on your Home screen [you can also learn how to make Siri silent on iOS 9 device].
Step 8. You can now remove your folder's label. Create a blank space (about 7 spaces) and copy – paste it as your folder's label through edit option. Save the changes by clicking on your Home button.
You can now enjoy the invisible folder with the blank name.