iOS 8, 9 smartphones can become useless if you get stuck on the Activation lock screen which requires the original (iCloud) Apple ID and password of the handset's user. It is good if you are the original owner and know this information. The problem is faced by customers who purchased a used Apple iPhone 6 or other model and have no idea where to search for its original owner to ask for the ID / password and bypass iCloud activation lock.
Find my iPhone Activation lock remove is a new Apple iCloud unlock service for iPad and iPhone that helps most users to stop having headaches because of the problem with iOS 8 security system improvement and they cannot remove device from Find my iPhone. You can finally order this service and easily get Activation lock removal as soon as possible. There is no need to search for the gadget's original owner anymore. Besides, this is iCloud best iPhone unlock solution that helps those customers who forgot their ID or password and couldn't find it.
You can make sure that your Find My iPhone is on by using the affordable Find My iPhone check service that gives the answer what status you have. If it is on and you are running or about to update to iOS 8, wish to permanently unlock your iDevice etc. you are advised to remove Find My iPhone app.
iCloud Activation Lock Removal iPhone Service
You can now easily remove Find My iPhone along with the Activation lock feature once you order the distant service that allows bypassing the locked status. The service doesn't unlock the handset. It cannot unblock it if the carrier has blocked your iPhone 6 Plus. But iCloud find my phone unlocking can help you get past activation error if the smartphone has clean IMEI code.
Step 1: Enter the IMEI number.
Step 2: Enter the email
Step 3: Read and agree with Terms and Services
Step 4: Click the Buy Now button and follow further instructions.
Important Notes
This iCloud unlock tool supports iPhone, iPad and iPod Touch.
Please, be attentive when you place your order online.
Provide us with a screenshot of the activation step where it asks for Apple ID and password: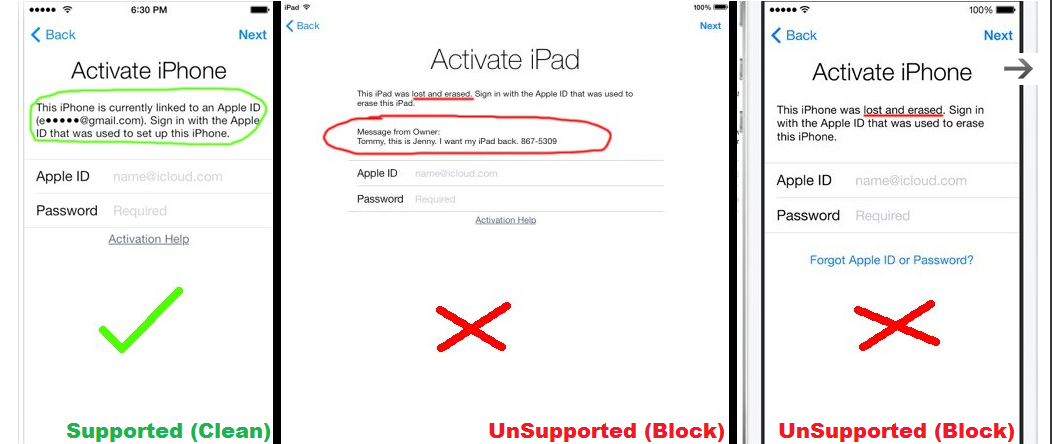 It is recommended to read Terms & Conditions and agree to them.
You are highly advised to run the iCloud Find my Phone unlocking service mentioned above that will tell you whether your Activation Lock is enabled or disabled.
Make sure your IMEI is not blocked, blacklisted, stolen, lost, or barred. No refund if device is blacklisted. This package supports iPad and iPhone all versions with clean IMEI.
If you really need to remove Activation Lock and Find My iPhone app you can place the order. Add the company's email to your contacts list so that the email with your results reaches you and doesn't land in your spam folder.
Please, be patient if it takes a while to complete your order. Sometimes there are too many requests and Apple servers become overloaded.
Why Find My iPhone Feature is Needed?
Apple allows iPhone users to protect their gadget from being used by third-party people. But it didn't provide the solution for owners with bad memory and used device consumers. Once you turn on Find My iPhone app in iCloud the smartphone will ask for the Apple ID and password to disable it along with the Activation lock that turns on automatically if Find My iPhone is on. If you can't enter the original ID and password you cannot unlock iCloud and get the activation error. The similar thing happens if the app was turned in iOS 6 firmware and you update to iOS 7, 8, 9. In such case if you don't have such info you need iCloud unlock solution.
It is required to turn Find My iPhone off so that your handset stops asking for the personal data when you wish to unlock, restore or update it. Otherwise you need this iPad and iPhone iCloud unlock fix.