Beginning from January 29 we have been facing with the long wait for IMEI network checker results. Also there are few messages from our consumers that they have problems with activation in iTunes after unlock delivering.
It is caused by issues with Apple servers status which unable to give respond. In most cases the results come after couple of hours but sometimes it may be delivered as Not Found.
Also there is information from hackers that Apple restore servers are under DDoS attack. However there are no names about attackers but this news came from famous hacker Planetbeing. He is known for developing software which you can use to hack Apple iOS. Let's see what he wrote that day: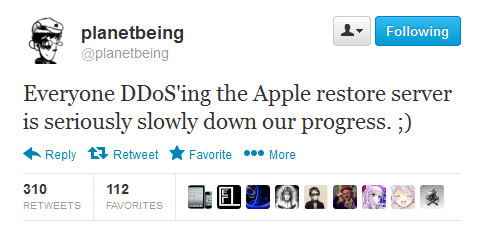 As you may see we are not the only who face with this issue. So don't worry and wait for the results. Those of you who have activation problems wait till the end of DDoS attacks and contact us: contact@att-iphone-unlock.info.
Stay tuned with us and we will inform about any changes in this situation. We hope that DDoS attack on Apple restore server won't take long time.