iPhone and iPad users who are running iOS 9 experience problems with iCloud backup creation. It is necessary to back up your iDevice when you are planning to restore, jailbreak, upgrade and in other situations. This way you can preserve your personal data and information you really need. Sometimes you come across iCloud error iOS 9 and we know how to solve it.
What should you do when you receive 'the last backup could not be completed' iOS 9 error? There are several things you can do so please follow our fix iCloud error guide and you should be safe and fine.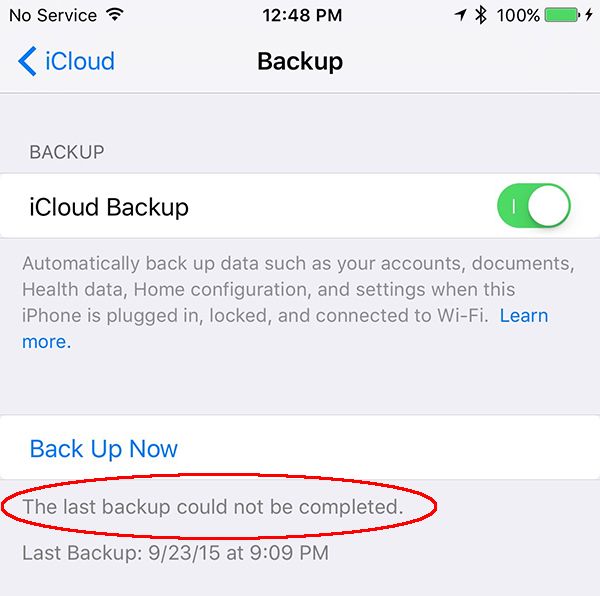 How to Fix Error The Last Backup Could not Be Completed
Step 1. Firstly, backup using iTunes just to be safe. This should work.
Step 2. When something is wrong with the gadget you should reboot it. Turning off and on will not help. You should force the reboot by pressing Sleep / Wake + Home button. Wait for a few seconds and Apple boot logo will appear. When the iPhone is back on you should launch Settings and choose iCloud to backup. Hopefully this would work.
Step 3. If this doesn't happen you can log out of iCloud account and log backin. Maybe this way you'll be able to successfully backup without 'the last backup couldn't be completed' iCloud error.
Step 4. Try to update to the most recent firmware version. The most recent one available today is iOS 9.1 [learn about possible iOS 9.1 update issues prior to installing this version]. You can either download iOS 9.1 ipsw file or go to Settings and select General – Software Update option.
Step 5. It isalso possible to reset network settings and try to backup afterwards.
Step 6. There is one more option you can use. Just go to Settings, choose iCloud and go to Storage – Manage Storage where it is possible to delete your old backup copies. Now try to backup again and this hopefully would work without any iCloud errors.