Is your battery widget missing? It often happens to iPhone 7 / 7 Plus users after iOS 10 upgrade to newer version (iOS 10.1 or 10.2). It can also occur on previous smartphone models that come across iOS 10 problems. Is it possible to bring the widget back? How can you fix the bug and find your battery on iPhone lock screen?
There are iOS 10 tricks [for example, you can turn words into emojis] you can follow to fix iOS 10 issues that are experienced by many users. It's one of the common problems you can face. Luckily, there is simple fix you should keep in mind. It can save you time and nerves since you can get your battery widget back as quickly as possible.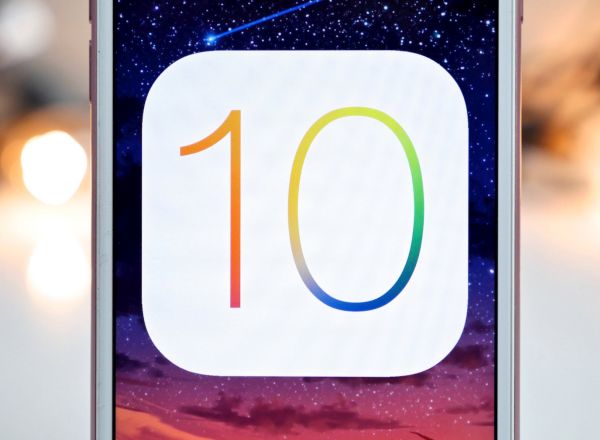 iOS 10 Bugs
Different things can happen to your new or older iPhone model. It's not a secret that all mobile operating systems are buggy. Some issues can be fixed by users and some can be only solved by the company. When you suddenly notice no battery widget on your iDevice you can bring it back.
You can surely try to turn this widget on (in case you have disabled it) however this doesn't mean that your widget will appear on the Lock screen. Even being enabled doesn't promise it will be shown up.
iOS 10 Battery Widget
Why would you need to see the iOS 10 battery widget on the lock screen? This option makes it easier to check some statuses. For example, you can take a look as know how your AirPods are charging. So if you wish to enjoy this feature just return your widget back and solve the problem.
iPhone Battery Widget Not Showing Fix
Step 1. You should do the following thing while your screen is locked. Just swipe from left to right on the iPhone display.
Step 2. You should scroll down. There will be 'Edit' option you need to tap.
Step 3. Click on the red button. You'll see it next to battery widget.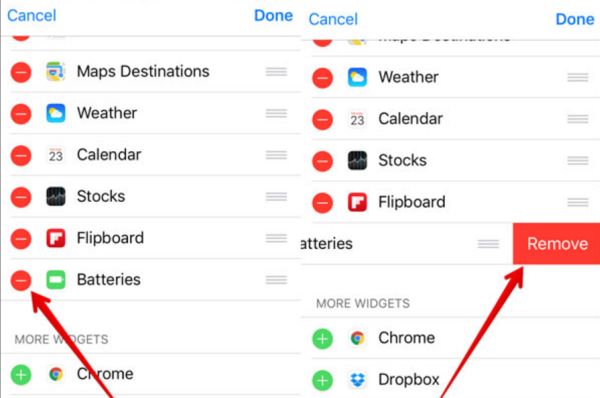 Step 4. You should press on 'Remove' option.
P.S. Some users haven't turned on this widget and thus they will only see the plus "+" instead of a read button. So click on this Plus under More Widgets feature.
Step 5. Now click on 'Done' option that is located at the upper right part of the screen.
Step 6. To fix your battery widget missing problem you should now repeat the same guide until you get to the '+' option near iOS 10 battery widget.
Step 7. You should click-hold the rearrange widget button which should be dragged to the top. Now you need to press on 'Done' option.
Step 8. You should now make sure you have turned on Battery Percentage after iOS 10 upgrade. So open Settings on your iPhone and choose Battery option where you can click on Battery Percentage. Double check that it is enabled.
Step 9. Reboot the iDevice. This is must do. If you have the iPhone 7 or iPhone 7 Plus which are the most recent Apple phone releases you have to click – hold that On / Off and volume buttons at the same time. For older models you should click – hold your Power and Home buttons at once and count till ten.
Step 10. Your iPhone will restart. Stay patient.
Step 11. Now you can unlock iPhone 7.
Step 12. Go to your Lock screen mode.
Step 13. The battery widget should be available again.
Sometimes the simple trick described above doesn't help you return your missing widget. You can try to reset your iOS 10 iPhone as this might solve the bug. You can do this pretty quickly: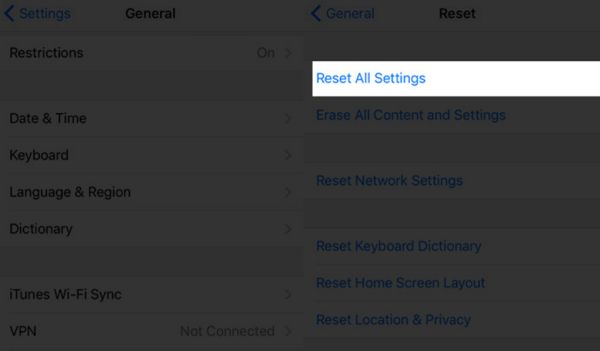 Step 1. Launch Settings.
Step 2. Select General menu.
Step 3. Click on Reset option.
Step 4. Press on Reset All Settings.
Step 5. Confirm your decision.
Step 6. The problem should be fixed.