There is a list of iPhone 7 hidden features that become available after particular firmware versions update. For example, once updated to iOS 10.2 you'll be able to play around with your iPhone camera settings and preserve changes. This can be done on different smartphone models and Apple iPad devices.
There is an awesome addition to iOS 10 settings (have you heard about single sign-on iPhone option?) that is called 'Preserve Camera Settings' and you can use it to not allow applications to reset the changes you have applied. This is a great thing to do if you have a lot of iPhone camera apps that could possibly reset your default settings. You can now control even more features on your Apple devices.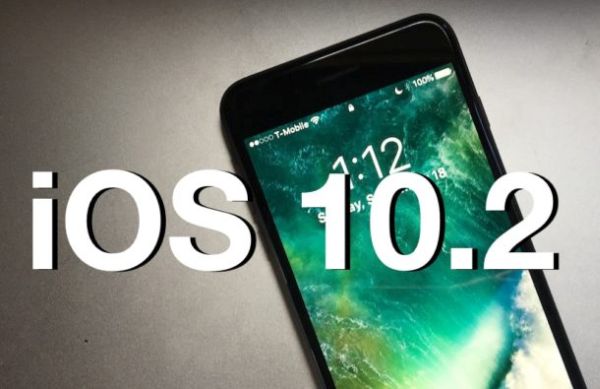 What's New in iOS 10 Settings in Version 10.2
The new operating system update brings not only new iPhone camera features but also ability to use single sign-on option, make emergency calls via Emergency SOS and enjoy the great TV program. Still there are some amazing hidden features you must know about and 'Preserve Settings' is one of them.
The incredible iPhone 7 Plus camera tips we'll talk about below can work on iPhone 6, 6s, 7 and your iPad because the changes are brought by iOS 10.2 firmware and once you install it on your 'fruit' gadget you'll be able to apply the changes.
You can also order factory SIM unlock for your iPhone 7 or 7 Plus. This is the simplest way to become SIM free from AT&T or other carrier.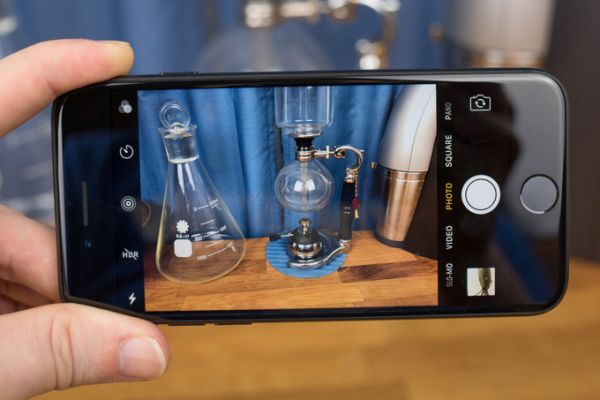 iPhone 7 Plus Camera Tricks
How can you take full advantage of the new iPhone 7 camera settings? What happens when you turn on the latest iPhone 6s Plus camera settings to 'Preserve' mode? In other words, users who like to work with Square mode in their iOS 10 Camera on iPhone will see this particular mode when they launch Camera program (if the mode was preserved). No default camera settings iPhone 6, iPhone 6s, iPhone 7 won't return unless user chooses to change something manually.
Without this mode, your settings will go back to 'default' the next time you launch Camera app.
Now it's time to explain how to use iPhone camera and enjoy the interesting new filter. While iPhone 7 Plus can boast the most powerful camera ever (this is the quick answer to the question 'which iPhone has the best camera' ever since the original Apple smartphone release) other handset models can also offer nice photo experience.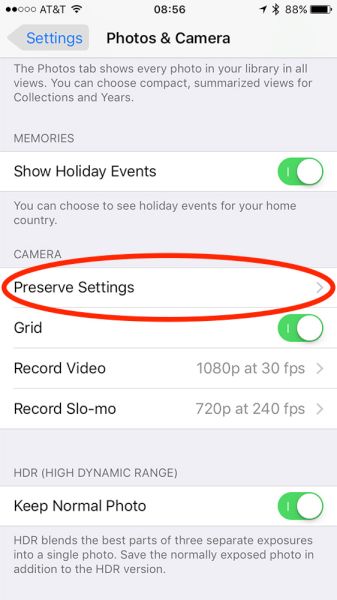 iPhone 7 Camera Tips for Using Transfer Filter
Step 1. Install iOS 10.2 as this is the only firmware version that currently supports amazing 'Preserver' option on iPhone.
Step 2. Once you are updated to iOS 10 you can click on Settings.
Step 3. You need to scroll down a little bit. Find Photos & Camera and click on this section.
Step 4. You need to look under Camera menu.
Step 5. Do you see Preserve Settings, the new iOS 10.2 feature? Click on it.
Step 6. There will be 3 options to choose from. You'll see Camera Mode, Live Photo and Photo Filter.
Here are some details about these three features. You can click on Camera Mode if you want to save your last mode (Square, Video and not Photo option set up by default). You might wish to click on Live Photo feature if you need to preserve your settings created specifically for Live Photo and not use the default settings. It is also possible to choose Photo Filter if you need to save filter that was used for the last time (Fade, Process or Transfer).
Let's practice now. Launch Photos application on iOS 10 and set the filters you wish to use. There is no need to remember your settings and set everything up each time you launch one of the iPhone camera apps for your platform. Test this feature and you'll like how the filter works and preserves your preferences.
What do you think about the upcoming changes and improvements you can enjoy?