[meta_info]
Tips Before Purchase:
Unlock Success Rate: 90-100%
*Unlock success rate depends on account lock status of each device.
[/meta_info]
[content_tab]
Recently many iPhone and iPad users stuck on iOS 8.x.x and iOS 7.x.x activation lock when device asks you to enter Apple ID on which device is registered. If you are original owner – great, put your details and bypass iCloud activation. But what should you do if you are not the original owner, don't have Apple ID password and need to remove iCloud? Here is a package that you can use to remove Find My iPhone iOS 8, 7 activation lock even without iCloud account info.
This issue was caused by enabled Find My iPhone feature in iCloud. If it is turn on you will get activation error when upgrading to iOS 8. And if this feature is disabled and Apple ID is removed from the device, you don't need to be worry.
Send a screenshot of the iPhone screen as shown on the picture in the Details tab.
Try to do not make mistakes and mistypes when placing an order. Check twice all info you provide to get successful results. No cancellation can be proceeded when your order was accepted for the unlock.
Delivery occasions apply throughout business days and hrs, not guaranteed turnaround time. (Business time is 9 am – 6 pm PST).
Please add contact@geo-location.site to your contacts to make sure our email gets delivered.
This is not hacking service and it won't harm your device. After iCloud lock removing you will need to restore iPhone in iTunes and activate it bypassing such step.
[/content_tab]
[details_tab]
This feature was firstly used in iOS 8 version. So when you plan to buy or unlock iPhone first check if Find My iPhone is On/Off to secure yourself from such activation issue.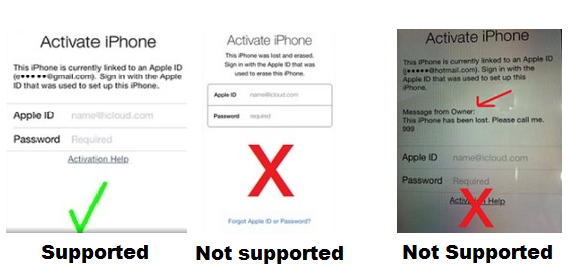 Unfortunately there isn't some special iCloud remover or other software/hardware hack and iPhone becomes useless when you don't know Apple ID and password.
In this case if you need now to bypass Activation Lock after updating you can use this iCloud activation removal service. Get rid of this lock and start using iPhone or iPad as usual.
Important!
This service will NOT UNLOCK or UNBLOCK your iPhone.
Send a screenshot of the iPhone screen as shown on the picture above.
Read Carefully Terms and Conditions before buying this service.
This package supports all iPhone and iPad models.
How To Place Order
1. Enter IMEI
2. Enter email
3. Read and Agree with the Terms
4. Click Buy Now
5. After buying iCloud remove send a screenshot of this issue here: support@letsunlockiphone5.info
This Find My iPhone lock became a big problem after iOS 7.0 releasing. Many happy new users of the used iPhone are facing with such problem and looking for iCloud activation remove service. Here you found it and could make an order right now!
[/details_tab]