The screen is too bright. Now, the fonts are spindly. Oh, it's hard to read in the sunlight. These are some of the common iOS 9 read text complaints from iPhone users [it is possible to decrease iPhone data usage on iOS 9]. You can change some settings and enjoy reading on your smartphone. Of course, this is not a book but you might want to check your text messages, emails or read something online – anyway it's better when you enjoy the fonts, background and other things.
iOS 9 read receipts can explain what exactly you need to change and adjust in order to create bigger, bolder, brighter fonts and dimmer background on the iPhone.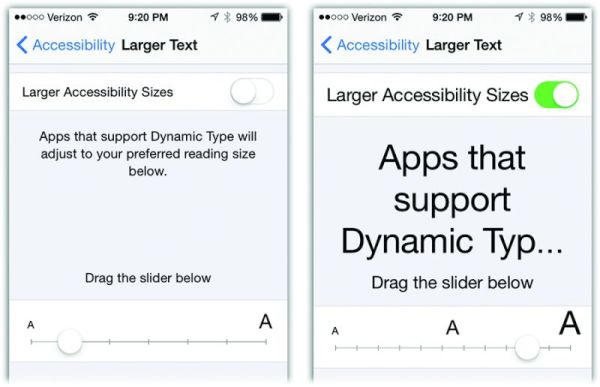 iOS 9 Reading Settings Guide
Step 1. All iPhone users can apply the changes through Settings app.
Step 2. Go to General – Accessibility menu where you are able to increase the font size and make texts more appealing to your eye. Large type size wouldn't appear throughout the system. If you increase the text you'll find it bigger in iBooks and your Messages, but it won't be present in apps that don't support Dynamic Type feature.
Step 3. You can also make bold text and play with contrast [there are a lot of iOS 9 tips and tricks you can enjoy]. For example, you can make solid background for Notification or Control Center by reducing transparency or create darker colors making fonts look heavier.
Step 4. It is also possible to play with your button shapes if this helps to improve your reading experience.
Step 5. There are some on and off switches that make white background for the switch when you are using Off option and green background for On option.
Step 6. Disable parallax motion if you want to reduce iOS 9 motion.
All these simple changes can make reading on the iPhone so much greater.