Sometimes we receive such question from our consumers. We decided to provide you with more details about AT&T iPhone activation problem and how to fix it if it cannot be used to unlock this iPhone.
The problem is in iPhone activation and it is clear. Apple try to secure its products from any kind of fraud and accepts iPhones only with suitable data.
Note: To get factory unlocked iPhone successfully you need to activate your iPhone with the original carrier. Otherwise Apple may block your iPhone when you connect it to iTunes.
Attention: Unlocking and activation are two different things. And if you can't activate iPhone after factory unlock this is not service's fault. The reason isn't in unlocking, the problem is in activation.
So, let's find out what you should do if you will get such messages as:
"We're sorry, we are unable to continue with your activation at this time. Please try again later, or contact customer care"

or
" Your request couldn't be processed. We're sorry, but there was an error processing your request. Please try again later."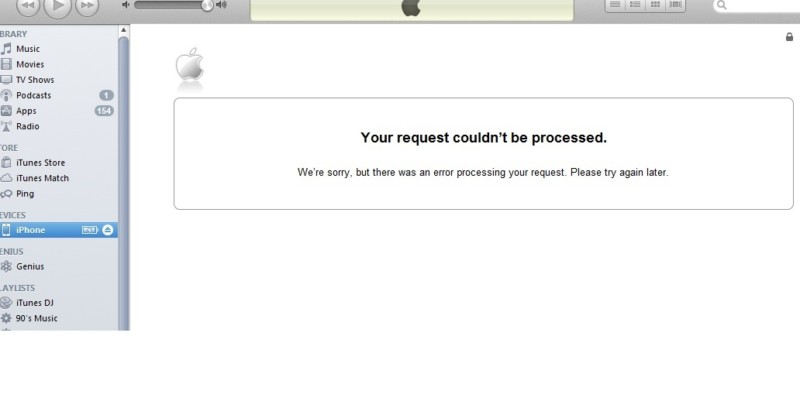 If you get one of these messages or AT&T iPhone activation No Service error even after factory unlock you may perform some actions. Very often No Service status may be caused by problems or inaccessibility of the following network.
Generally this is a good sign when you get No Service except unsupported Sim because you can be sure that iPhone accepted Sim which means unlocked.
Note: Follow the link to fix No Service on iPhone after factory unlock.
So, let's find out how to fix that issues with activation.
Common AT&T iPhone Activation Errors [Reasons and Fixes]
1.Very often Apple servers are under DDoS attack and iPhone activation failed and it cannot be used to unlock this iPhone. Also Apple server may down due to millions of users activating their iPhones. In this case – take some time and try again later as Apple asks you in the message.
2. iPhone was bought on eBay or other seller and now you need Billing ZIP Code and Social Security number (last 4 digits) to activate iPhone. Sometimes previous owner didn't activate device so you need to find the solution for that.
To fix that problem we have 100% working service which helps you to activate iPhone without zip code and SSN for the cheapest price on the web.
3.Your iPhone may be blocked by Apple. This can be after:
Your iPhone was not activated and you order factory unlock using IMEI service. Never buy factory iPhone unlocking services before you can activate your item with original network. Apple doesn't always block iPhones but you better remember it.
In this case you will need to activate iPhone with any AT&T SIM card.
Note: If you have ordered factory unlock and it doesn't work restore iPhone and activate it with AT&T; then restore again and activate with any other SIM card (except AT&T).
Attention: Only after SAM activation unlock you will need to use original SIM card with original phone number to successfully activate iPhone. Only then order factory unlock.
Jailbreaking / Downgrading / Updating / Hacked by such tools as Redsn0w, Evasi0n, Absinthe, Sn0wbreeze, TinyUmbrella.
If you used TinyUmbrella or Sn0wbreeze you hosts file on computer was changed. In this case just reset file on Windows and activate iPhone. Or, once again, update and activate iPhone with AT&T Sim card on other computer and only then order permanent unlock.
The iPhone was hacked or hacktivated using Redsn0w or SAM app.
If you haven't ordered permanent unlock just update iPhone to the latest iOS and activate it with AT&T Sim card.
But if you have already ordered unlock and receive that your request was successfully completed, to fix that try to restore iPhone and activate it with AT&T; then restore again and activate with any other SIM card (except AT&T).
Refurbished and IMEI # couldn't be authorized by Apple activation server.
Contact with the carrier or find other service because we don't unlock these types of iPhones.
Also you can always to contact with Apple support for help. Or perform clean restore with non-AT&T Sim card while iPhone is in DFU mode.
You need remember these reasons and solution if you have AT&T iPhone activation problems and errors. We hope these tips & tricks will help you to successfully complete factory AT&T iPhone unlock and never have activation issues.