[meta_info]
Tips Before Purchase:
*Use network checker if you are not sure what carrier your iPhone is locked to.
Unlock Success Rate: 80-100%
*Unlock success rate depends on AT&T account status of each device.
[/meta_info]
[content_tab]
Many AT&T iPhone customers have activation problems, despite using factory unlock iPhone service you cannot activate your device without ZIP code and SSN.
Throughout activation steps you stuck on screen which insists upon enter Billing Zip code and also the last 4 numbers of SSN (Social Security Number).
Here we will help you to activate AT&T iPhone for normal using.
You can place an order when you are sure that iPhone is locked to AT&T carrier. No refund if iPhone is not locked to AT&T.
Try to do not make mistakes and mistypes when placing an order. Check twice all info you provide to get successful results. No cancellation can be proceeded when your order was accepted for the unlock.
Delivery only throughout business hrs, not guaranteed turnaround time. (Business time is 9 am – 6 pm PST).
If you will not see email, go to the junk / junk e-mail folder or add contact@letsunlockiphone.info for your safe mail list.
[/content_tab]
[details_tab]
This task is required for identification the initial who owns iPhone locked to AT&T carrier. If you're this individual – no problems just enter required info and click Next.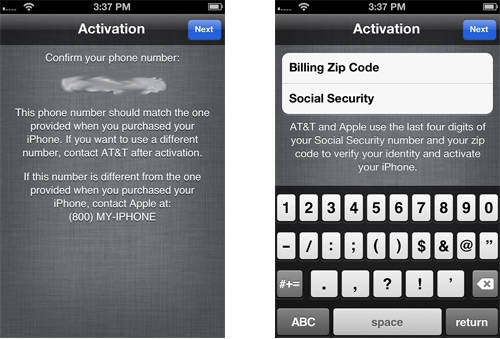 But you will find lots who bought in-contract iPhone 5S, 5С, 5, 4S, 4, 3gS, 3G on eBay or any other third-party hands. If you're one of these buyers and see such screen, you have to put information which signifies the initial owner.
Note: You cannot provide Zip code and SSN that differ from original info. Restore and various Sim cards don't help too.
Sure you can get required information of the previous owner but many people don't want to provide such information as ZIP Code and SSN (even only last 4 digits).
Important Notes
It is strongly recommended that you have an original Sim.  It's not necessarily needed. But sometimes you need to insert original SIM even if we provided ZIP code and SSN.
We activate AT&T iPhone only that asks for Billing Zip Code and Social Security number during activation. In other case we don't activate iPhones.
After you activate iPhone you can factory unlock it for other carriers.
Read carefully Terms & Conditions before clicking the Buy Now button.
Activate iPhone Using Zip Code and SSN Without Contacting the Original
Fortunately there's one particular method. There's no requirement for you to definitely search for billing zip code and last 4 numbers of SSN.
Awareness: It Is Not Find my iPhone iOS 7 activation lock service. Place an order only if the iPhone requires Billing ZIP code and SSN (last four digits). NO Reimbursement if the service was bought to avoid Find my iPhone and for gadget that isn't locked to AT&T US carrier.
Steps to Make A Purchase
1. Enter IMEI # (General – Configurations – About).
2. Enter Email.
3. Go into the original telephone number that was tied following the first purchase.
4. Accept Conditions and terms.
5. Click Buy Now.
Once you effectively provide all needed info wait for the email from us for more instructions.
[/details_tab]