The new iPhone SE is available for pre-orders in a number of countries. Customers are offered several choices. They can choose gold, rose gold, silver and space gray smartphone with 16GB or 64GB of storage space. What iPhone SE storage capacity to consider?
Most users pay their attention to color, cost and capacity when it comes to buying new smartphone. While color is more of your personal preference, cost and capacity are main factors. Still before you decide with a cheaper model you can look at iPhone SE 16GB vs 64GB model.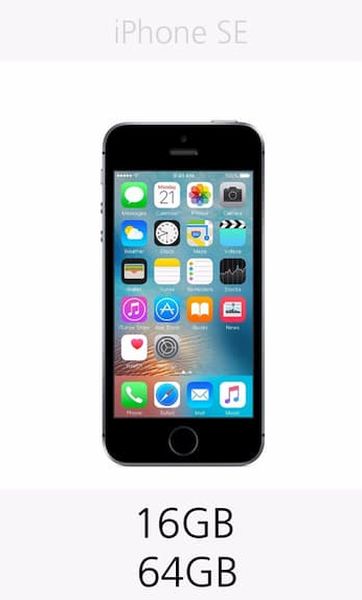 Apple offers no contract 16GB iPhone SE at $399. The 64GB version costs $499. At the same time consumers can go with monthly installment plans and get the iPhone SE 16GB model at $13.30 / per month or 64GB version at $16.64 per month [here are some details about iPhone SE price in India].
Heavy data users and people who like to take pictures and record videos would most likely need to spend $100 more to get extra space. It is impossible to buy external extra space later on because Apple's devices don't have such a possibility unlike Samsung smartphones.
A lot of users are eager to pay less and get the cheapest Apple gadget if possible. Still 16GB is not enough storage space when it comes to many movies, a lot of music, huge number of applications, images and videos. Don't save money on storage capacity if you really need it. Buy the most expensive model you can afford. This is probably the best rule when it comes to getting a new generation Apple device.
If you are not a fan of music, movies and all extra files you can get the 16GB iPhone SE and save money. Just remember that you'll have to remove apps, delete photos and files when you run out of space. Get the 16GB version only if this is your occasional phone, not the main device.