Sometimes you get spotty WiFi connection and need something that is more reliable [AT&T is bringing support for iOS 9 WiFi calls]. If you update to the most recent mobile firmware offered by Apple you can get iOS 9 WiFi Assist feature that is exactly what you need to get reliable Internet connection.
The new option is very curious. All users know that it makes connections more reliable however this cool WiFi iOS 9 setting is firstly not available to all iPhone owners and secondly has other facts you must hear about.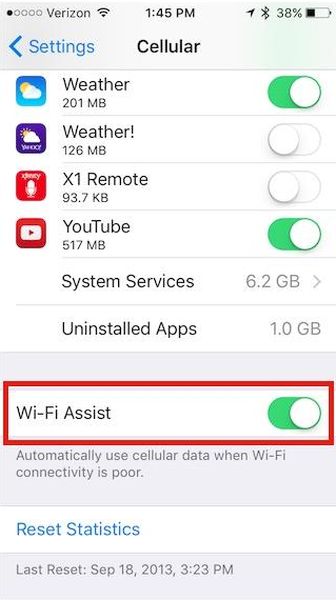 WiFi Assist iPhone iOS 9 Secrets and Tips
* Updated to iOS 9 but have no WiFi Assist?
Unfortunately Apple made its new feature available on particular models only. Even if you upgrade to iOS 9.0.1, new iOS 9.0.2 or download iOS 9 direct ipsw file – you have no guarantee that the cool option would work for you. Apple restricted the models that can get this addition. Thus, iPhone 4s users are out of luck. Customers who have the original iPad mini, iPad 2 or iPad 3 will also find WiFi Assist not working on their devices.
* WiFi Assist is supported by my iPhone but doesn't work
You might be using third-party applications and Apple restricts third-party programs support for its WiFi Assist option. This happens to avoid large amounts of data used by you. The company is trying to protect users from huge data bills. If you are using file downloaders, video streaming or music programs you might notice that your iOS 9 feature stops working.
* Why iOS WiFi Assist stops working in the background?
Apple made sure you cannot run its new iOS 9 feature in the background. It works only with foreground programs. If you are trying to download something in the background the option will stop working.
* No WiFi Assist while roaming?
Apple made sure its users who are traveling abroad do not get expensive data bills because of the WiFi Assist iOS 9 feature. This option becomes not available when you are using data roaming service.
We hope that this information is useful to iOS 9 users.