Here you will find out how to complete sim unlock iPhone (6S, 6, 5S, 5 or 4S, 4) in iTunes after factory unlocking. When you decide to order IMEI sim iPhone unlock using official service you will always need to complete it yourself with iTunes. The process is not difficult but there are few tips and tricks which could be right solution for some iDevices.
Permanent and factory iPhone unlocking is the most popular method to free iPhone from the carrier's chains. As you may know there are millions iPhone models around the world locked to some local carrier. There is no free solutions for that models. Of course if your iPhone still running old iOS and you unlocked it using hack software or hardware like Gevey SIM you can't update your phone because you will lose unlock.
Only IMEI unlocking will solve that problems, after which you'll be abe not only use any SIM card while traveling but upgrade your iphone to any new iOS and still be unlocked. All you need to know is the carrier to which your iPhone is locked. You can always check network using our cheapest IMEI checker in case you don't know the carrier and then make an order.
There is nothing simpler that order at our service. We created tutorial guide to show you how it works, so you can use it before we start here.
How to unlock iPhone?
This guide answers the questions of "How to unlock iPhone?" and help you in further unlock any iPhone include 6S, 6, 5S, 5C, 5 and old models 4S, 4!
ATTENTION
If you use such unlocking solutions as Gevey SIM, R-Sim (and other SIM methods) or SAM unlock you will need to activate your iPhone with original SIM card first and only then order unlock here. The fact that these solutions spoof your iPhone IMEI and you need insert original SIM card into iPhone and connect it to iTunes, because only then your device will be recognized and returned to Apple database.
After you purchase factory IMEI sim unlock iPhone at our site wait for the last email with further instructions. These guidelines will help you to complete unlocking process in iTunes. But sometimes there are minor problems, so let's go through them.
How to Unlock iPhone: Complete Factory unlock in iTunes
Because of iOS 8 bug iPhone can be relocked after update to this version. To avoid such issue please follow easy steps below:
Put GSM Sim of not supported carrier in iPhone. Don't place original Sim card if you did not use SAM or Gevey (read Attention above).
1. After receiving email that your iOS 7 iPhone has been unlocked, you should activate new unlocked status.
2. Remember on this case use Wi-Fi iPhone activation guide not iTunes.
3. Find an active WiFi connection.
4. Take the original SIM card of the carrier your iDevice are locked to and insert other SIM that was not supported before.
5. On the screen you'll see table "Activation Required"
6. Connect your iPhone to active WiFi network and iOS system will do all the work needed and then activate your new status.
7. After you iDevice has been activated you can install iOS 8 using WiFi or iTunes. You got rid from relocked problem.
There are two ways to complete the unlock process for your iOS 8 iPhone.
How to Unlock iPhone Without Restoring in iTunes
Step One: Connect iPhone to the computer and open iTunes (latest version).
Step Two: In case your Apple iPhone presently working on iOS 8 disconnect gadget after iTunes finds it. Hang on ten seconds and connect iPhone again. You should see Congratulations message.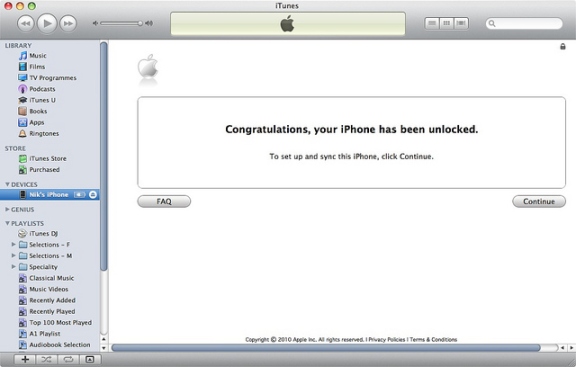 Note 1: If something wrong happens, for instance, iTunes will freeze then just disconnect your iPhone from USB, close iTunes then connect the unit again and launch iTunes.
Note 2: Sometimes there's no Congratulations message but wait for the network signal which would be mean that iPhone is factory unlocked.
Note 3: If your gadget still running iOS 7 or lower you will have to upgrade it using WiFi first.


Note 4: There's yet another method to complete the procedure. Insert SIM card of the carrier you want to use (not original) and go to Settings => general => Reset => Reset Networks. Now just wait for the signal. Also try to enable and disable Airplane mode.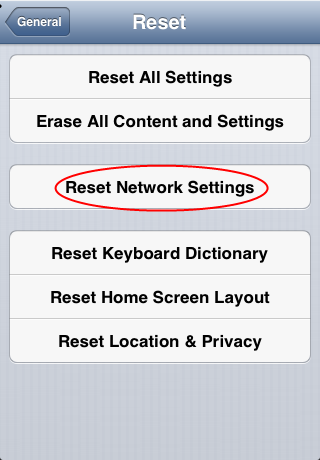 If you will fail try to restore iPhone in iTunes to complete unlock. This method almost always works.
How To Restore iPhone in iTunes to Complete Factory Unlock iPhone
Step One: Place Sim in Apple iPhone and connect it with iTunes. Backup all of your documents in iTunes or iCloud.
Step Two: After backup click Restore button.
Note: Make sure that after restoring process you choose Setup as a new iPhone:


Step Three: Click Continue and activate your gadget. You will see the Congratulations message but sometimes it is absent. Don't worry, because when you get the signal you will be able to make calls.
Feel free to contact our support if you have any questions about how to unlock iPhone! Also visit our FAQ to get the answers.