Where are the best deals on iPhone 6 in the U.S. right now? There are so many stores and each one offers discounts once in a while. If you wish to get a bundling gift card with your purchase or need a cheap Apple smartphone [different models] it might be a good time to buy iPhone 6 in February.
Some American stores have nice iPhone 6 deals for February 2015. It might be impossible to buy iPhone 6 in USA online if you want it to have the biggest discount. The tastiest deals are offered in store so you might need to visit the store and make the purchase there.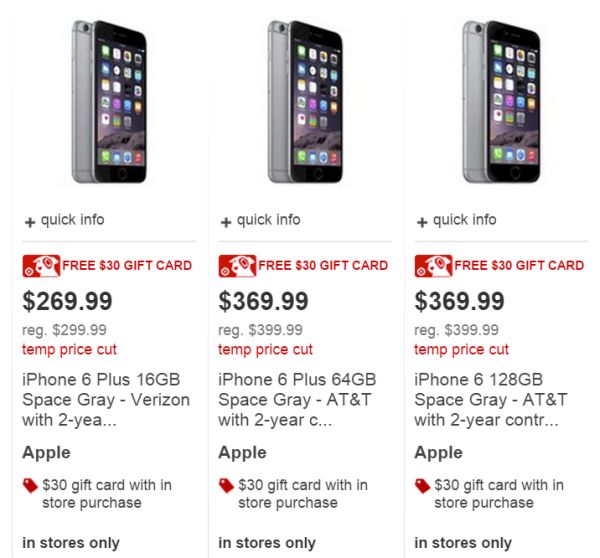 Awesome iPhone 6 Discount in USA Target Stores
The two seven-gen smartphones that are running iOS 8 firmware can be bought with a $30 gift card and a nice discount. The offer lasts till February 14, 2015. You can get the locked 16GB iPhone 6 at $169.99 + $30 gift card. The 64GB and 128GB models will cost you $269.99 and $369.99 respectively. The 6 Plus models are more expensive. The cheapest 16GB variant starts at $269.99 and the most expensive 128GB version goes up to $469.99 plus a gift card.
Target also has attractive pricing on older cell phone models, with iPhone 5c offered at $0.01 and iPhone 5S reaching $49.99.
There is nothing to worry about getting a locked smartphone from Target. You can always unlock iPhone 6 AT&T or order Verizon iPhone 6 / 6 Plus unlock and become SIM free in almost no time.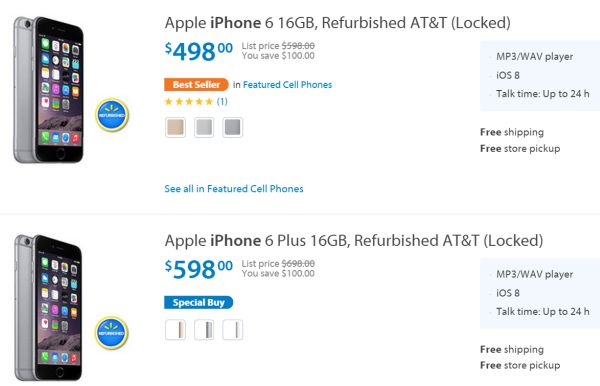 iPhone 6 Deals at Walmart
Another American store also cut the cost for Apple gadgets. You can purchase off-contract iPhone 6 at $498.00 or pay $100 more for the 6 Plus model. The only downside to this sweet deal is that both gadgets are refurbished.
If you are not a fan of flaws on the iDevices you can pay $150 on top of this to buy the brand new iPhone 6 or 6 Plus directly from Apple.
Even if you get a never-locked smartphone you will still need to activate iPhone 6 within Verizon, AT&T or any other network. Being able to switch SIMs is really great, but this doesn't mean that you have to avoid buying the locked models.