One of the top mobile carriers in the USA will spend about $14 billion in the AT&T 4G LTE coverage expansion. The cellular company is famous for selling iPhones to Americans and offering data plans for iPhone users.
The knowledge about AT&T service expending LTE coverage will most likely worry another company, Verizon. Even though this rival mobile operator is far ahead of AT&T in its deployment of LTE, it might still be afraid of losing customers who now drop AT&T in favor of Verizon network which is more-robust but might change their minds in the future, when AT&T expands 4G LTE coverage.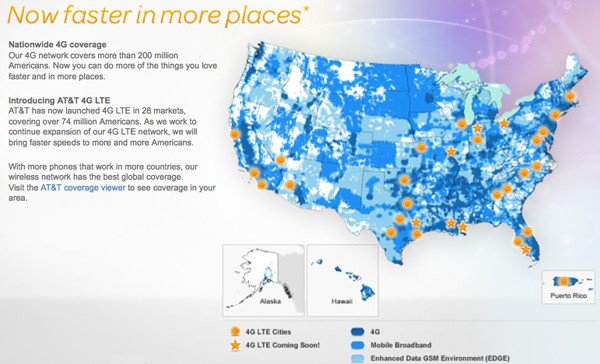 According to the cellular carrier's plans, it will be expanding and improving its wireline IP broadband and wireless networks over the next 3 years. Thanks to $14 billion investment [this sum is pretty large] in the AT&T 4G coverage expansion iPhone and other smartphone owners will be able to enjoy enhanced cloud, application, and mobile services. Besides, the access to high-speed Internet will also improve and satisfy customers.
The company has given a name to its new plan. It is known as Project Velocity IP [VIP]. The mobile carrier hopes to get increased revenues once the project is implemented into life. Right now AT&T can boast selling the record amount of iPhone 5 units since this handset's official launch in September.
AT&T expending LTE coverage expansion is an important step since today its LTE networks cover only some cities. By the end of next year the carrier hopes to cover about 250 million customers with LTE and increase this number to 300 million users by the end of 2014. The large investment into networks expansion should help the company remain competitive in the market and bring better service to iPhone owners as right now most AT&T iPhone 5 consumers cannot enjoy LTE capabilities and higher speeds because such services are mostly unavailable to them.