AT&T attack on T-Mobile has surfaced in newspaper ads. The two U.S. carriers that could have merged in the past have now become voiceless enemies and the AT&T vs. T-Mobile war continues on the pages of USA Today, The Wall Street Journal and the New York Times.
The latest AT&T advertising is a direct hit at the network performance of T-Mobile. It clearly demonstrates the rivalry between the U.S. carriers. According to one company, this is the response to unspecified claims by the other firm. The counterattack is taking a full page in three American newspapers. Wanna see these AT&T attack ads?
The New AT&T Advertising Solution
What does the attacking carrier say in its advertisements? Firstly,  according to Bloomberg, the ads you can read in newspapers say that T-Mobile drops twice as many calls as AT&T. Secondly, the carrier assures that the network speeds of T-Mobile are half as fast as its own.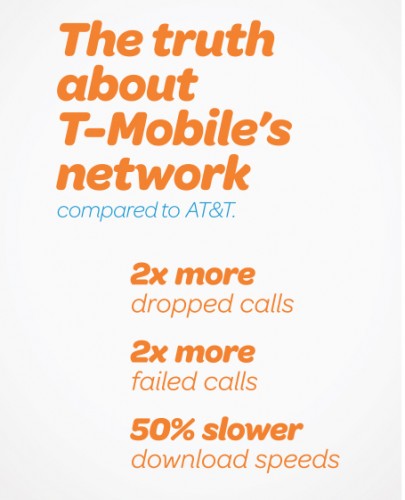 It is not difficult to see that the tension between the mobile operators is getting tenser. It started over a month ago at the Consumer Electronics Show. The AT&T network was called "crap" by John Legere from T-Mobile.
Now we see the answer to these words. It is public, yet voiceless as the advertisements are published in the newspapers.
Update: Read about T-mobile respond to AT&T about its covarege and other stuff.
Some Facts and Opinions
As AT&T's spokesman Mark Siegel noticed, the ads from T-Mobile are "plain wrong" and their strategy misguides customers. So the company decided to remind its consumers about its faster speeds. The abstract number of dropped calls is also "just a friendly reminder" and nothing more.
Do you use the network of one of these two carriers? What do you think about AT&T attack ads campaign? Do you believe it is ok for one company to accuse the other network in such a way? We hope to hear your opinion.