A lot of 'fruit' fans would like to get Apple e SIM cards. The company is already believed to communicate with cellular carriers about such release. If you remember, a year ago Apple demonstrated two tablets [iPad mini 3 and iPad Air 2] with Apple SIMs. Such cards made it possible to use more than just one network and switch SIMs at any moment.
iPhone 6 e SIM card is not exactly full unlock but it's also not the same as being locked to only one carrier [you can check your iPhone SIM lock status for free]. Previous SIMs introduced by Apple allowed iPad owners to use three cell carriers and switch between them without issues. This plan isn't enjoyed by all mobile operators because most companies still like to lock their subscribers to their network only. From other hand, ordinary users are definitely happier when they get a choice of data plans and service quality.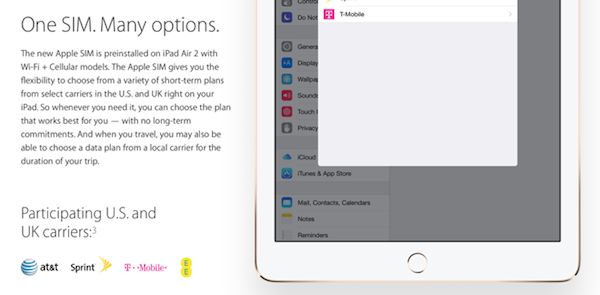 This is a neat idea and if Apple e-SIM card is introduced for iPhones – users might get better choices of their mobile operators. What is this interesting e-SIM? As rumors say, this could be a new technology that allows fast switching between carriers. It should be much easier than it happens now when you must order factory iPhone SIM unlock service in order to get a chance to use different mobile companies and select your data packages. Otherwise you have to purchase the never-locked smartphone and it is priced pretty high compared to locked versions.
If iPhone 5 e SIM card or other model with such a card could connect to multiple networks – users will be able to connect to AT&T, Vodafone, Hutchison (for example) and switch between these networks even without having to insert a new SIM each time. Wouldn't it be wonderful?
Of course, iPhone e SIM card is only rumored to be launched sometime in the future [rumors mention 2016]. But the reports about Apple and Samsung talking to carriers about something like this to happen sound reassuring.